About Ellen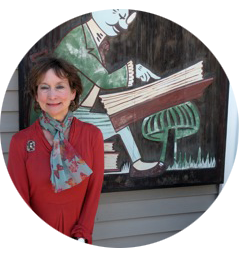 Ellen Prentiss Campbell is the author of the novels Frieda's Song (2021, finalist for the Next Generation Indie Book Award, Historical Fiction) and The Bowl with Gold Seams (2016, winner of the Indie Excellence Award for Historical Fiction) and the short story collections Known By Heart (2020) and Contents Under Pressure (2016, nominated for the National Book Award). Her short fiction has been featured in numerous journals including The Massachusetts Review and The MacGuffin. A member of the National Book Critics Circle, her essays and reviews appear in The Fiction Writers Review, where she is a contributing editor, the Washington Independent Review of Books, The New York Journal of Books, and others.
Ellen is a past Fellow at The Virginia Center for the Creative Arts. Her work has been recognized by The Pushcart Press (2018) and in competitions including Augury Books Short Story Collection (2013), Iron Horse Fiction Collection Contest (2010), Hunger Mountain Short Fiction Contest (2009), The Ledge Fiction Contest (2007), The Emerging Writers Network Fiction Competition (2006), The Elizabeth Simpson Smith Award (2005) and The Potomac Review Fiction Contest (2003).
Believing in the power of books to sustain and change lives, Ellen has presented to over 100 audiences, including bookstores, libraries, book festivals, and book clubs.
Ellen is a graduate of The Bennington Writing Seminars, Simmons School of Social Work, and Smith College. She has studied and offered workshops and readings at The Bethesda Writers Center.
As a child, Ellen dictated stories before she could write, and remembers the disappointment of learning to read but still being unable to crack the cursive code of her grandmother's letters. She now writes full time after many years practicing psychotherapy. Both as a writer and a psychotherapist, she has always sought the story between the lines and behind the words.
She lives in Washington D.C. with her husband, and summers in Manns Choice, Pennsylvania.